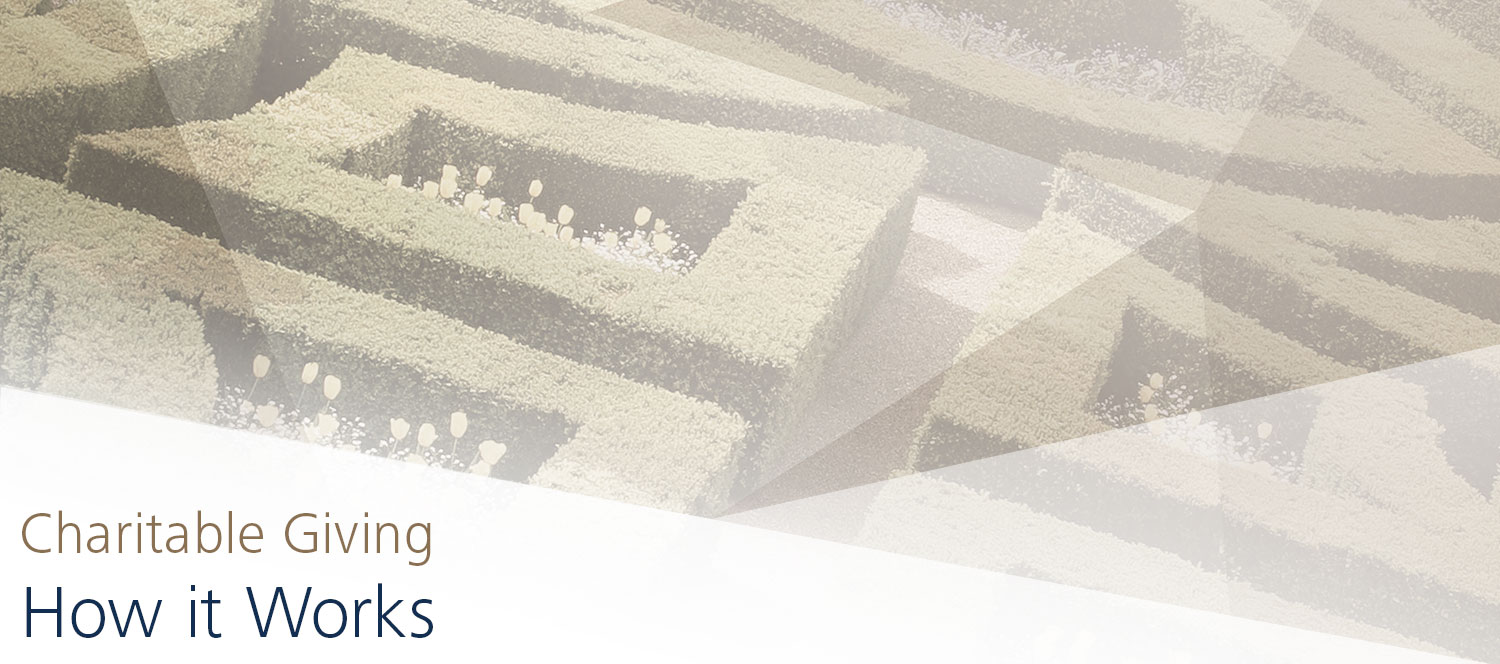 The Mackenzie Charitable Giving Program is offered through the Strategic Charitable Giving Foundation, a non-profit charitable corporation. As with any registered charity, donations are irrevocable; however, the donor retains the right to advise the Foundation on which charities receive annual grants and to name successors who may offer direction in their place. For this reason, the program is known as a "donor-advised program."
An account is established with an initial donation of $10,000 or more in cash, stocks, bonds, mutual funds or insurance – all of which is eligible for a donation tax receipt.
The donor names their account. Every time a grant is sent to a charity, the fund's name is cited as the source of the gift. Donors may also choose to give anonymously.
Account is administered under the Strategic Charitable Giving Foundation.
Donations are invested in a conservative investment selected by the donor, as an agent of the Strategic Charitable Giving Foundation and managed by Mackenzie Investments.
The donor selects an annual donation rate between 5 and 100%.
Investment Options
Donations to the Mackenzie Charitable Giving Program can be invested in any one of 13 funds, offering the potential for donations to grow and ultimately result in additional dollars to charities over time.
Make a difference today. Speak to your financial advisor to learn more about the benefits of the Mackenzie Charitable Giving Program.
---
Commissions, trailing commissions, management fees and expenses all may be associated with mutual fund investments. Please read the prospectus before investing. Mutual funds are not guaranteed, their values change frequently and past performance may not be repeated.
This should not be construed to be legal or tax advice, as each client's situation is different. Please consult your own legal and tax advisor.
Mackenzie developed the Mackenzie Charitable Giving Fund program with the Strategic Charitable Giving Foundation, a registered Canadian charity. Donations under the program are irrevocable and vest with the Foundation. The information is general in nature and is not intended to be professional tax advice. Each donor's situation is unique and advice should be received from a financial advisor. Please read the program guide for complete program details, including fees and expenses, before donating.
The payment of distributions is not guaranteed and may fluctuate. The payment of distributions should not be confused with a fund's performance, rate of return or yield. If distributions paid by the fund are greater than the performance of the fund, your original investment will shrink. Distributions paid as a result of capital gains realized by a fund, and income and dividends earned by a fund are taxable in your hands in the year they are paid. Your adjusted cost base will be reduced by the amount of any returns of capital. If your adjusted cost base goes below zero, you will have to pay capital gains tax on the amount below zero.