Reach your financial goals – one step at a time
Dollar Cost Averaging (DCA) is disciplined investing on a consistent and regular basis. This approach gives investors a way to systematically get back into – or stay in – the markets, using Mackenzie Investments mutual funds.
Studies prove that time in the market (as opposed to trying to time the market) is key to higher long-term returns. With Mackenzie One-Step DCA, investors are assured of being in the market in a systematic way that reduces exposure to severe market fluctuations.
How DCA works in a fluctuating market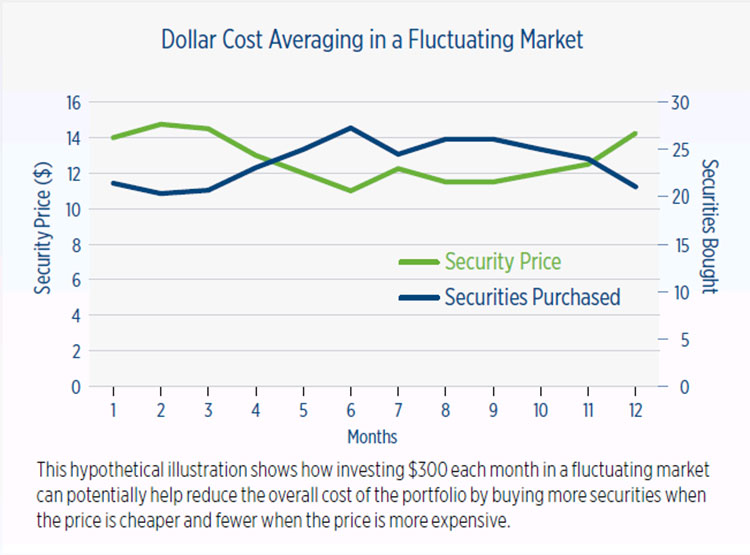 Why dollar cost averaging?
It's regular systematic investing
By systematically investing a given amount on an ongoing basis into a Mackenzie Investments fund, investors purchase securities at different costs – sometimes higher, other times lower. What's key is that investors are averaging out costs in the long run, which can reduce the risk of exposure to market fluctuations.
It's easy to start
Invest a minimum of $1,000 in an eligible Mackenzie Investments money market fund and over 52 weeks the Mackenzie One-Step DCA will automatically make weekly investments into an eligible mutual fund of the investor's choice.
DCA is right for all markets
In a falling market – DCA can let investors purchase more securities
In a rising market– DCA can protect investors from paying too much
In a flat market– DCA ensures investors always stay invested
Explore your options
Call your financial advisor to discuss how Mackenzie One-Step DCA can help you reach your financial goals.
Commissions, trailing commissions, management fees and expenses all may be associated with mutual fund investments. Please read the prospectus before investing. Mutual funds are not guaranteed, their values change frequently and past performance may not be repeated.